All are welcome to visit and join us. We are a worshipping community built on mutual love and respect for one another and the Spirit. We worship every Sunday in the manner of Quakers: silent worship, waiting upon and encountering the Inner Light. We come from many backgrounds and share our different ways of understanding God. Our community is built around this experience of worship and our desire to live out lives of simplicity, peace, integrity, community, equality, and environmental stewardship together.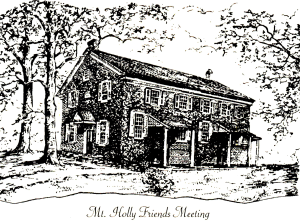 Our long commitment to seek God in everyone led many Quakers to become pioneers in social and racial justice, whether working for the Underground Railroad, protesting for women's rights, or seeking to protect the Earth from harm for generations to come. Still today (and everyday) we are listening and being led by the Spirit.
We invite you to come and participate in this journey with us.